Description
Price
Quantity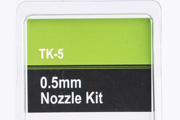 Features:
- Kit includes fluid nozzle, fluid needle, and nozzle cap.
- Also includes installation instructions and nozzle wrench.
- Use for Tritium.TG, Tritium.TS, Genesis.XGi and Genesis.XSi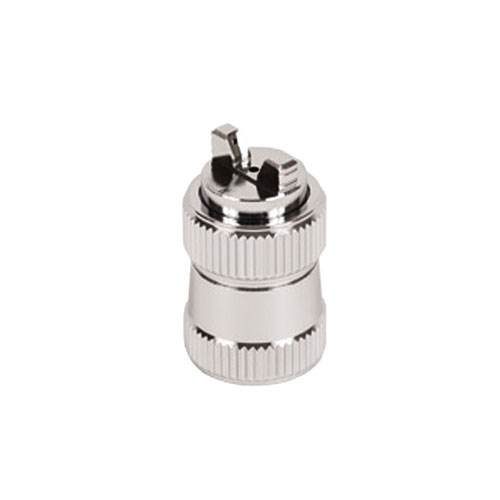 Give the 0.5mm Tritium airbrush (#801124) the ability to spray in a fan pattern.  
Inspired by full sized spray guns, the Grex ran Spray Cap transforms your airbrush into a "mini spray gun" allowing for more efficient, quicker and even coverage of larger areas. This changes the standard round spray pattern of an airbrush into an elongated fan spray pattern of a spray gun. A very useful and desired trait for laying down even coverage with less passes.  Includes installation and usage instructions.

Check pictured chart for required PSI for a given CFM/LPM.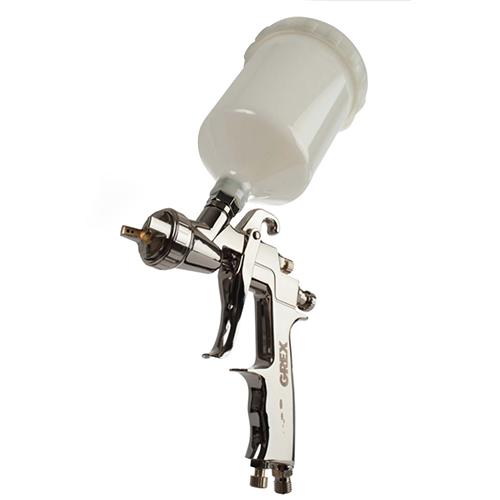 1.4mm Nozzle 600mL Plastic Cup
Features:
- Designed for precise control of detailed work.
- Low air consumption with superior atomization.
- Precisely machined stainless steel nozzle and needle.
- Robust nozzle for improved centering and strength.
- Durable heavy nickel chrome plated housing.
- Pattern Shape Adjustment Knob
- Fluid Adjustment Knob
- Accepts Colored Cocoa Butter, Chocolate, Glaze, Egg Wash.
- Also includes: particle filter, multi-wrench, cleaning brush
- Available nozzle sizes from 1.0mm to 1.8mm. 

Requires the purchase of 2 ea. 801402 (Adapter 1/8inM to 1/4inF) to connect Spray gun to 801428 (10' Braided Nylon Air Hose) and then hose to compressor.
Specifications:
Type:

Spray Gun

Fluid Nozzle:

1.4mm

Feed Type:

Top Gravity

Cup Capacity:

20.3 fl oz. (600cc)

Fluid Inlet Size:

M16*1.5P

Weight:

0.514kg (1.15 lbs.)

Air Consumption:

9.5cfm (270 l/min)

Operating Pressure:

1 ~ 2 bar (15 ~ 28 psi)

Fluid Output:

150cc/min

Spray Width:

310mm (12.2")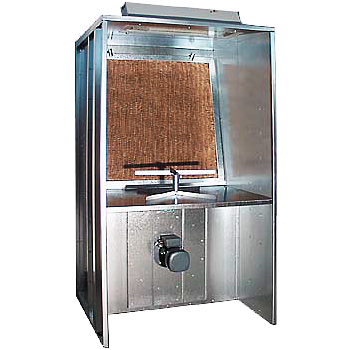 Stainless Steel Large Format
Overall Dimensions: 6'3" high x 3'7" wide x 3'4" deep
Booth inside working dimensions: 3'6" high x 3'4" wide x 24"
Lot of 20 ga. stainless steel panels
Caster base with 2 swivel casters and 2 casters with locks
9", 1160 CFM fan with 1/3 HP 120 volt / 5amp totally enclosed fan cooled motor, no exhaust required
Motor Switch 
110 volt plug
Set of 4 high capacity, high solids paper filters.
Installation package complete with fasteners, hardware and sealants necessary for assembly
Shipping crate (shipped assembled)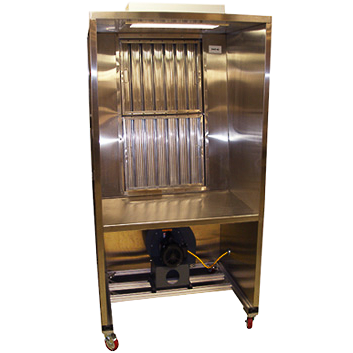 Stainless Steel Small Format
Lot of 20 ga. stainless steel panels
Overall Dimensions: 6' High x 2' 8" wide x 2' 10" deep. 
Caster base with 2 swivel casters and 2 swivel casters with locks 7.5"
7 1/2", 925 CFM fan with 1/3 HP, 120 volt totally enclosed fan cooled motor  
Recirculating fan, no exhaust required
110 volt plug
Motor Switch 
Set of high capacity, high solids paper filters (4 filters)
Shipping crate (Shipped assembled)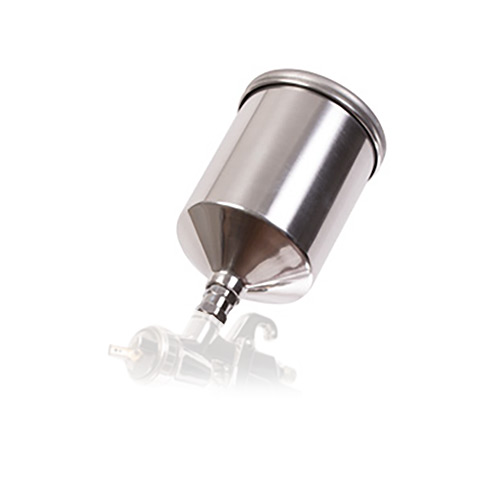 Metal or plastic cup for our LVLP Top Gravity Fed Spray Gun (Item # 801703)
Volume: 600cc / 600ml